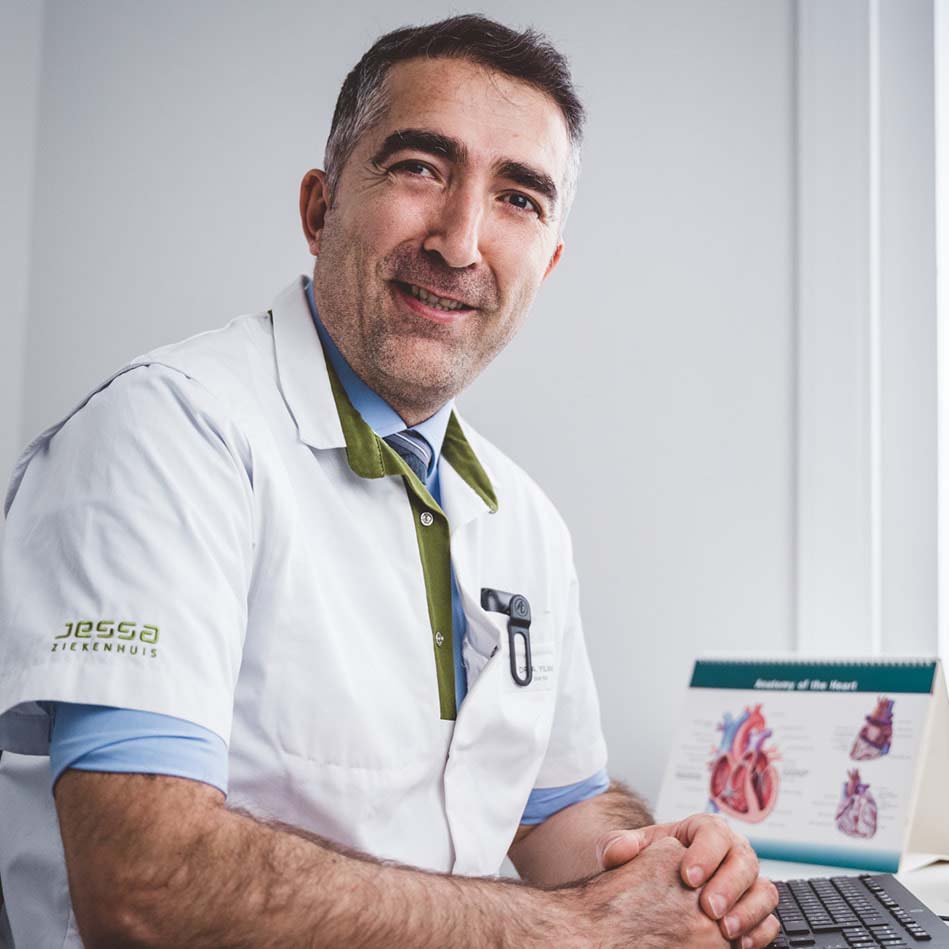 Cardiothoracic surgeon
Dr. Dr. Alaaddin Yilmaz (born in 1970 in Emirdag, Turkey) graduated from Rijksuniversiteit Gent as a physician in 1996. He started his general surgery training at St. Jozef Ziekenhuis and Maria Middelares Ziekenhuis in Ghent. He completed his training at St. Antonius Ziekenhuis Nieuwegein in the Netherlands under Prof. van Swieten.
He has been a recognised surgeon with a subspecialty in cardiothoracic surgery since 2002.
Dr. Dr. Yilmaz developed a number of minimally invasive surgical techniques and is now an internationally renowned expert in minimally invasive cardiothoracic surgery. Several of his procedures were recorded and/or broadcast live to share his knowledge with colleagues.
His areas of expertise include maze procedures, VATS procedures, VATS lobectomies and VATS thymectomies.
2003 – 2004: cardiothoracic surgery executive at Amphia Ziekenhuis Klokkenberg in Breda, Netherlands
2004 – 2012: cardiothoracic surgery executive at St. Antonius Ziekenhuis Nieuwegein, Netherlands
March '13 – December '14: part-time cardiothoracic surgery executive at OLV Ziekenhuis Amsterdam, Netherlands
March '13 – December '14: part-time cardiothoracic surgery executive at Jessa Ziekenhuis Hasselt
January '15 – present: cardiothoracic surgery executive at Jessa Ziekenhuis Hasselt
Member of the Belgian Association for Cardiothoracic Surgery (BACTS)
Member of the International Society for Minimal Invasive Cardiac Surgery (ISMICS)
Member of the European Association for Cardiothoracic Surgery (EACTS)
Member of the Dutch Association for Cardiothoracic Surgery (NVT)
Member of the Turkish Society for Cardiovascular Surgery (TKDCD)
Poster on The Belgian Week of Gastroenterology, Knokke 1995
Partial splenic embolisation for severe hypersplenism in a girl with congenital liverfibrosis
Yilmaz A, Defreyne L, Robberecht E, Benoit Y, De Hemptinne B.
Devisions of Radiology, Pediatrics and Surgery. University Hospital Ghent
Pulmonary endarterectomy: a single institution's experience in 46 cases.
Netherlands Heart Journal 2005; 13 (suppl 1): 22.
Yilmaz A, Heijmen RH, Snijder R, Morshuis WJ, Plokker HWM.
Mediastinitis en cervical fasciitis necrotisans after extraction of 2 molars. SA Zijderveld, HA van Swieten, JWFH Frenken, A Yilmaz, Nederlands tijdschrift voor tandheelkunde. 2007;114:267-270
Intramural hematoma of a cryopreserved aortic homograft, L. Botta, G. Kloppenburg, A. Yilmaz, Thorac Cardiov Surg 2008;56:1-3
Streptococcidal infection of the aortic arch: aggressive evolution managed by homograft replacement, L. Botta, A. Yilmaz, M. Schepens, Acta Cardiol 2008;63(1):85-86
Intraoperative endobronchial tube displacement requiring unplanned extracorporeal circulation support, L. Botta, P. Bruins, K. van Muiswinkel, A. d'Andrea, R. di Bartolomeo, A. Yilmaz, Journal of the American Society of Extra-Corporeal Technology, 2008;40:135-137
Completely thoracoscopic bilateral pulmonary vein isolation and left atrial appendage exclusion for atrial fibrillation, A.Yilmaz, B. van Putte, WJ van Boven, Journal or Thoracic and Cardiovascular Surgery,2008;136:521-522
Thoracoscopische pulmonaalvenenisolatie voor behandeling van medicamenteus resistent symptomatisch "lone"boezemfibrilleren, Geuzebroek G, van de Kraats E, van Boven WJ, Yilmaz A.. Cordiaal 2008; 29(4):112-116.
Minimal access aortic valve replacement using a minimal extracorporeal circulatory system, Yilmaz A, Rehman A, Sonker U, Kloppenburg G., Ann Thorac Surg 2009 Mar; 87(3):720-5.
Prosthetic valve endocarditis due to Brucella: successful outcome with a combined strategy, Botta L, Bechan R, Yilmaz A, Di Bartholomeo R, J. Cardiovasc Med , 2009 Mar;10(3):257-8
Ascending aorta impending rupture: succesfull surgical management in a patient with type IV Ehlers-Danlos syndrome; Yilmaz A., Dessing T., Botta L.; J. Cardiovasc Med . 2009 Sep 7.
Late device thrombosis after atrial septal defect closure; Luermans JG, Post MC, Yilmaz A; Eur. Heart J. 2009 Nov 25
Reply to the editor; Alaaddin Yilmaz, Bart P van Putte, Wim-Jan van Boven; Journal or Thoracic and Cardiovascular Surgery,2009;137:1036-1037
Recurrence of atrial fibrillation after mini-Maze is associated with pulmonary vein reconnection. Jansen WPJ, Wijffels MCEF, Wever EFD, Van Boven WJ,
Yilmaz A, Boersma LVA; European Heart Journal. 2009;30(Suppl 1):813
Completely thoracoscopic pulmonary vein isolation with ganglionic plexus ablation and left aterial appendage amputation for treatment of atrial fibrillation
Alaaddin Yilmaz, Guillaume Geuzebroek, Bart P van Putte, Lucas VA Boersma, Uday Sonker, Jacques MT De Bakker, Wim-Jan van Boven; Eur J Cardiovasc Surgery,2010,38(3):356-360
Cardiac surgery in a patient with essential thrombocythemia: a case report; BE Schölzel, H Endeman, W Dewilde, A Yilmaz, O de Weerdt, JM ten Berg
Netherlands Heart Journal, vol 18, number 6, June 2010
Direct observation of the human microcirculation during cardiopulmonary bypass: effects of pulsatile perfusion; Elbers PW, Wijbenga J, Solinger F, Yilmaz A, van Iterson M, van Dongen EP, Ince C; J Cardiothorac Vasc Anesth. 2011 Apr;25(2):250-5
Clinical evaluation of the air removal characteristics of an oxygenator with integrated arterial filter in a minimized extracorporeal circuit; Stehouwer MC, Boers C, de Vroege R, C Kelder J, Yilmaz A, Bruins P; Int J Artif Organs, 2011 Apr;34(4):374-82
Combined coronary artery bypass grafting and aortic valve replacement with minimal extracorporeal closed circuit circulation versus standard cardiopulmonary bypass
Alaaddin Yilmaz, Jelena Sjatskig, Wim J van Boven, Frans Waanders, Johannes C. Kelder, Uday Sonker, Geoffrey T.L. Kloppenburg; Interactive Cardiovascular and Thoracic Surgery 11 (2010);754-757
Emergency surgery for ruptured sinus of valsava aneurysms. Kloppenburg GT, Sonker U, Post MC, Yilmaz A, Morshuis WJ; Scand Cardiovasc J. 2011 Aug 5 (Epub ahead of print)
J-shaped versus median sternotomy for aortic valve replacement with minimal extracorporeal circuit; Yilmaz A, Sjatskig J, Boven WJ, Waanders FG, Kelder JC, Sonker U, Kloppenburg GT; Scand Cardiovasc J. 2011 Aug 19 (Epub ahead of print)
Closed chest lobectomy with subxiphoid retraction; Yilmaz A, Van Putte BP, Van Boven WJ; Interactive Cardiovasc Thorac Surg. 2011 Sept 16 (Epub ahead of print)
Bacterial endocarditis with septic pulmonary embolism due to pacemaker lead infection; W. B. Prins, A Yilmaz, P. G. Noordzij; Neth Heart J, March 2012
Feasibility of mitral valve surgery using minimal extracorporeal circulation; Sjatskig J, Yilmaz A, van Boven JW, Sonker U, Waanders FG, Kloppenburg GT. Perfusion. 2012 Jul;27(4):264-8
Acute mediastinal bleeding during vacuum-assisted closure; Roemer J. Vos, Alaaddin Yilmaz, Uday Sonker, Geoffrey TL Kloppenburg; International Wound Journal 2012 (Epub ahead of print)
Closed chest video-assisted thoracoscopic lobectomy: results of 2010-2011; Van Wiemeersch S, Yilmaz A; Interactive Cardiovascular & Thoracic Surgery 2012;15(Suppl 1):S56
Vacuum-assisted closure of post-sternotomy mediastinitis compared to open packing; Vos RJ, Yilmaz A., Sonker U, Kelder JC, Kloppenburg GTL; Interactive Cardiovascular and Thoracic Surgery 2012;14(1):17-21
Primary closure using redon drains vs vacuum-assisted closure in post-sternotomy mediastinitis. Vos RJ, Yilmaz A., Sonker U, Kelder JC, Kloppenburg GTL; European Journal of Cardio-Thoracic Surgery 2012;42(4):e53-e57
Incomplete endothelialisation of left atrial appendage occlusion device 10 months after implantation; Luca Massarenti, Alaaddin Yilmaz; Journal of Cardiovascular Electrofysiology 2012;23(12):1384-1385
Proctor for Atricure: VATS mini-MAZE
Educator for use of the MECC in cardiac surgery
Course director for minimally invasive cardiac surgery in St Antonius, partner St Jude (2009-2012)
Co–organistor; course director: Minimally invasive techniques in adult cardiac surgery, SMTP Committee EACTS, 13-15 Feb 2012, St Antonius Hospital, Nieuwegein, the Netherlands
PA-education accompanimant , Master Physician Assistant School Utrecht
7th Christmas Echo course,15-16dec 2006 Brussel
Live surgery from Nieuwegein to Radstadt: minimal invasive aortic valve replacement with the MECC, nov 2006, MECC-symposium, Radstadt (Germany)
Live surgery: Totally thoracoscopic epicardial ablation for persistent AF, juli 2008, Nieuwegein (Netherlands)
Live surgery from Nieuwegein to Antalya: Closed chest bipolar bilateral RF for treatment of AF, 4th Update in cardiology and cardio-vascular surgery, 29Nov 2008, Antalya (Turkey)
Live surgery from Nieuwegein to Antalya: Closed chest mitral valve surgery, 5th Update in cardiology and cardio-vascular surgery, December 2009, Antalya (Turkey)
Live surgery from Nieuwegein to Antalya: Combined triple valve (MVP-TVP-AVR) + MAZE IV surgery, 5th Update in cardiology and cardio-vascular surgery, December 2009, Antalya (Turkey)
Live surgery: MAZE IV procedure, 6th Update in cardiology and cardio-thoracic surgery, April 2010, Izmir (Turkey)
Live Operation on public TV (Nederland 1) : AVR + CABG, 24 Nov 2010 Netherlands
Live Operation Mini-MAZE with extended lesion set at the meeting:Navigating the MAZE, Barcelona course on AF 22-24 April 2012:
Live Operation: Closed chest VATS lobectomie: subxiphoid approach at the EACTS, live –operation from Pisa to Barcelona 28 oktober 2012
Live Operation: Port acces mitral valve surgery with cryo MAZE at regional congress in Novosibirsk, December 8th 2012 Novosibirsk, Russia
Oral poster presentation ICR Workshop, dec 2006, Innsbruck (Austria)
Non-robotic quality controlled endo-ACAB using ultracision and epicardial ultrasound
Oral presentation at the Winter ISMICS, dec 2007, Antalya (Turkey)
Completely endoscopic bilateral pulmonary vein isolation and left atrial appendage exclusion for atrial fitbrillation
Oral presentation at the ISMICS june 12 ,2008, Boston (US)
Closed chest totally endoscopic bipolar radiofrequency treatment for atrial fibrillation
Lunch symposium: Less is more; MECC improves aortic valve replacement outcomes, June 12, 2008, Boston, ISMICS (US)
Faculty member: Masterclass Video Assisted Thoracic Surgery, Elancourt (France) 29-30sept 2008
Minimal Access Aortic Valve Replacement Utilizing Minimal Extracorporeal Circulation System
Video on www.ctsnet.org September 2008
Oral presentation at the 7th National Congress of the Helenic Society of Cardiothoracic Surgery (Greece)
Minimal invasive aortic valve replacement, 28 Nov 2008
Lunch symposium: 4th Update in cardiology and cardiothoracic surgery,30 Nov 2008, Antalya (Turkey)
Meet the expert; Closed chest bipolar RF ablation for treatment of AF
Lunch symposium : Society of Heart Valve Disease, 28 June 2009, Berlin (Germany)
MECC in aortic and mitral valve surgery
3th Update in Cardiology and Cardiothoracic surgery, December 2009, Antalya (Turkey)
Complete closed chest mitral valve surgery
8 th Congres of NVEC, 15 march 2010 Amersfoort (Netherlands)
Complete closed chest lobectomy
Lunch symposium ISMICS Berlin, 17 June, 2010: Is it MICS? (Germany)
Minimal access aortic valve surgery
Technocollege EACTS Geneva (11 sept, video presentation): Surgical technique to create connecting ablation lines off-pump
EACTS Geneva (14 Sept): Special topic session: Atrial fibrillation
Totally thoracoscopic procedure: Technique and tips for completing an extended lesion set + video.
Consensus Meeting Brussels Okt 28th:
Closed Chest VATS Lobectomy: subxipoid approach
5th Update in Cardiology and Cardiothoracic surgery, March 2011, Antalya (Turkey)
Endo-ACAB: Minimal Invasive Coronary Bypass Grafting using VATS
12th Venice Arrhythmias Okt 10th 2011
Totally thoracoscopic treatment of persisten longlasting AF: indications and results
Clinical and interventional Rythmology, update 2012, March 30-31 Vienna, 2012-04-09
AD ablation by minimal invasive thoracoscopy: a new promising concept?
12th Turkish Cardiovascular Meeting, Antalya 7-11 Nov 2012, Turkey
Totally thoracoscopic surgical ablation: creating a full extended lesion set
Royal Society of Medicine, Crossing the boundaries: collaborations, London 16 Nov 2012
Closed chest AF ablation: latest techniques and results